THE TEN SPOT | yonge & eglinton, toronto
contact
licensed to serve alcohol
hours
| | |
| --- | --- |
| Monday | 10:00 AM - 8:00 PM |
| Tuesday | 10:00 AM - 8:00 PM |
| Wednesday | 10:00 AM - 8:00 PM |
| Thursday | 10:00 AM - 8:00 PM |
| Friday | 10:00 AM - 8:00 PM |
| Saturday | 9:00 AM - 6:00 PM |
| Sunday | 9:00 AM - 6:00 PM |
services
eyebrow tinting + threading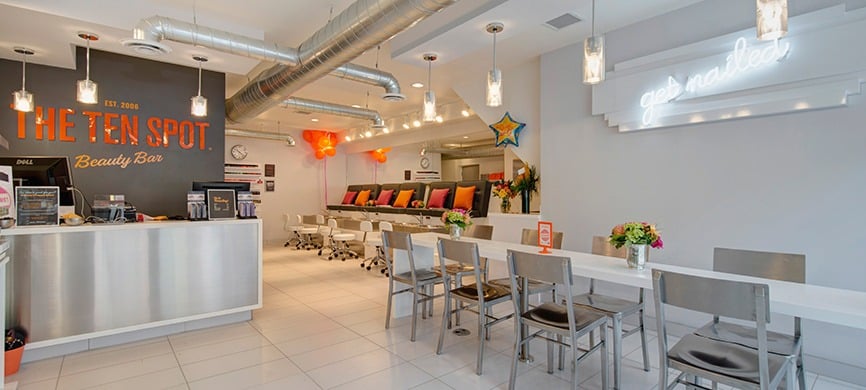 people kinda love us
Great staff, very smiling, great products and most of all, cleanliness is amazing and quality of service is great. The only down side for me was the seats for pedicure. I am quite tall and you can't adjust the length. There is no dedicated place

to put your feet. You need to leave them on the edge of the sink, where it's a bit slippery (stainless steel), and it makes it very uncomfortable when your beautician is lifting up your legs to work under your feet despite their great efforts to make it ok. You basically don't relax, you just spend your time trying to stay in the same position.It would be great to have a sort of high cushioned little table to leave your feet rest during the entire process. It would probably be way easier for the technician as well.If there would improve this I would definitely adopt this place as my new one.

read more
The staff and service here is excellent. I've been several times and am always pleased with the cleanliness, professionalism, and quality of services I've received. As an example of the service quality; I had booked an appointment for a pedi this

past weekend, but arrived to find that the appointment had been scheduled for the following week. They were extremely apologetic and the manager stepped in to do the pedicure herself. The appointment was unhurried, and it was the best pedicure I've gotten. I'll definitely keep coming back!

read more
Christina van den Brink
14:47 16 Jul 18
As this was my first ever pedi, it was great. Kyla was really good and even found an ingrown toenail that I had had fixed it. The massage on my legs was great too. I would definitely go back again. If I could rate my experience I would give it a 5

out of 5 stars. Very clean premises and very friendly staff.

read more
Patricia Taylor
20:36 07 Aug 18
Stacia did my pedi today and it was wonderful! Great conversation and she really took her time. There were lots of staff around making sure I had everything I needed which included two cups of yummy coffee. Happy customer! 🙂
Jodie Alcorn
00:06 13 Jul 18
I had my eyebrows threaded and tweezed by Annie. She did a beautiful job all while being patient, attentive to my requests and checking in often to make sure I was satisfied with what she was doing. Shape is great and she kept them thick! Highly

recommend

read more
Antonnette C
21:56 16 Aug 18
This was my first visit to The Ten Spot and WOW was I blown away by the amazing service! Luisa is a pedicure QUEEN and the associate at the front desk (oops, I didn't catch her name!) was so lovely. Plus the complimentary lip balm was the cherry on

top! You guys are amazing! I'll definitely be back 🙂

read more
Ashley De Filippis
19:31 19 Jun 18
The Ten Spot at Yonge & Eglinton is amazing. Very prompt at responding and accomodating their clients. I felt super welcome and calm as soon as I sat down in Shantel's chair for my mani. A very refreshing experience!
Katerina S
01:25 20 Jan 19
Great service..I had Francesca for brazilly..best wax that I ever had..She was fast and efficient.. I would recommend Francesca. Great great service..If I could I would give her 5+++ stars.. Francesca put me in eaze because I had such a bad

experience before I was very nervous... I'm definitely coming back to see her.

read more
Martha June
14:31 20 Jan 19
Cherise is amazing 💛 this is the 3rd Ten Spot location I've had facials at, because I have followed her since her Queen West days, then over to HBC... she is a star!! Very knowledgeable about the products & understanding of her clients'

skincare needs, & really fun to chat with.

read more
Jo Hughes
19:03 04 Feb 19
Fastest and most efficient waxing EVER! Professional service and clean welcoming environment. Thanks Francesca!!
Kristy Grandy
13:34 22 Feb 19
Great service! Had an overall very pleasant experience. Denise did a quick and fantastic job! I got a manicure for the first time at The Ten Spot and I was very impressed by the staff's professionalism and friendliness. Chantal provided valuable

tips on their skin care products and Denise advised me on how to make my manicure last even longer. I will definitely be coming back!

read more
Micha Powell
00:07 14 Mar 19
Love the Ten Spot. So clean and professional. I've had almost every service they offer there done and never been disappointed
Nikki Jones
05:17 25 Mar 19